Cotton swabs, also known as wiping sticks.
Cotton Swab
is a kind of clean wipe consumables used in industry.
Most of them are used to wipe the edges, gaps and planes of the electronics and semiconductor industries (some people also call it purifying cotton swab, anti-static cotton swab, sponge stick and so on)...
According to the application fields, its varieties can be divided into electronic and photoelectric cotton swabs, medical and cosmetic cotton swabs, household cotton swabs, and other industrial fields. Its materials and shapes are diverse, which can adapt to the wiping of various solvents.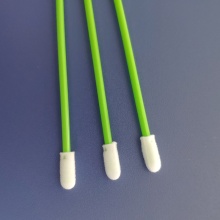 Type of cotton swab: there are clean swab, clean swab, medical swab, instant swab.
1. There is an essential difference between a dust-free wipe rod and a cotton swab. The material of the dust-free wipe rod head is divided into sponge head and cloth head, both of which have been treated and purified in a dust-free room.
2. Clean swabs are the only option for precise cleaning applications, eliminating contaminants and maintaining cleanliness in the special environment of the production process.
After wiping, the chemical residue content is low, combustible, easy to handle, and environmentally friendly.
Most clean cotton swabs are electrically conductive, keeping the operator and tool grounded.
Suitable for 10 - level purification workshops, packaging is different.
3.
Medical Cotton Swabs
are suitable for cleaning and disinfection of skin or trauma.
4. Instant cotton swab, including cotton swab stick and cotton head fixed on one end of the cotton swab stick, the cotton swab stick is a hollow rod, and its internal storage liquid, one end of the cotton swab fixed cotton head is provided with an oil seal for sealing liquid, and the other end is provided with an end seal.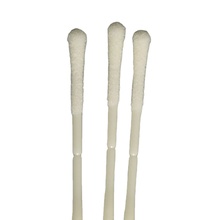 Compared with the existing technology, the hollow rod is used to store the liquid medicine structure, so that the cotton swab itself with the liquid medicine, that is, out of the box, convenient and fast.
It is suitable for hospitals, families, schools, hotels, essential sanitation supplies, is also very suitable for travel use.
Usage of cotton swab
1. Cotton swab can be used by opening the bag.
Remove the cotton swab from the pole. If you remove the cotton swab from the cotton swab, the bacteria on your hand will contaminate the
Sterile Cotton Swab
.
3. The medical cotton swab can directly treat the wound.
However, care should be taken to store the cotton swabs in a room with a relative humidity of less than 80%, non-corrosive gas and good ventilation to avoid high temperature.
Medical cotton swabs are usually in direct contact with the wounds of patients, which requires high requirements for sterilization.
In addition is for the production of cotton cotton absorbent raw materials choice, must choose in line with the national standards, industry standards of raw materials.
Still have the requirement that is right bar material quality, no matter be model bar, paper bar or wooden bar, should achieve regulation requirement, can bear certain external force to do not produce permanent change or break phenomenon.
4, household cotton swabs generally do not deal with human wounds, only for general skin cleaning.
When using a household cotton swab to clean the baby's body, be careful to operate when the baby is quiet, to prevent the swab from stabbing the baby.
Notes on using cotton swabs Pay attention to the shelf life
The cotton swabs come from the hospital and are mostly wrapped in double paper.
The cotton swabs are sterilized at high temperature and pressure, and their shelf life is usually two weeks when they are unopened.
However, in humid areas in the south, or during the plum rains in the spring, cotton swabs are likely to last only a week or so because the paper is prone to moisture, allowing bacteria to penetrate into the packaging.
It is important to preserve cotton swabs
When storing cotton swabs, make sure that the package is airtight, and pay attention to the swabs should be stored in a room with no relative humidity exceeding 80%, non-corrosive gas and good ventilation to avoid high temperature.
Household cotton swabs should not be used to disinfect wounds
Ordinary families usually use cotton swabs are not many, there is no condition to open 24 hours after the remaining cotton swabs for re-sterilization treatment.
Therefore, it is recommended to use those cotton pads as normal cosmetic cotton pads, or discard them. Do not use them for wound treatment, especially for baby.
Sterile cotton swabs are necessary to disinfect the skin, and once contaminated, they can cause an infection in the wound.
Some people think that cotton swabs should be dipped in alcohol, iodine and other disinfectants anyway, and a little bacteria is not in the way.
They don't know that disinfection and sterilization are two different concepts.
Disinfection is to kill pathogenic microorganisms on articles;
Sterilization is the complete elimination of all pathogenic and non-pathogenic microorganisms on an article, including spores.
Sterilization includes disinfection, and disinfection cannot replace sterilization.
That is to say, although the disinfectant such as alcohol and iodophor can kill pathogenic microorganisms, if the cotton swab is not sterile, but with spores and other microorganisms, then the disinfectant has no way to it, and even the disinfectant will therefore be contaminated.
Therefore, to ensure the sterility of cotton swabs is an important measure to prevent infection.